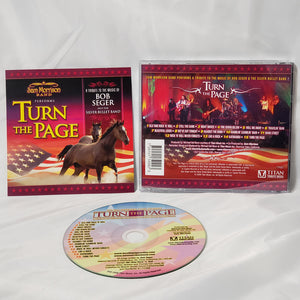 Turn The Page-Tribute to Bob Seger Autographed CD 
In 2008, the Sam Morrison Band had started doing a Tribute show called Turn The Page which has now become hugely successful due in part to this CD! The SMB gained the attention of famed record producer Michael Vail Blum(whose credits include Madonna, Pink Floyd, Kelly Clarkson...). He had just started a record label for Tribute Bands and TTP was the 3rd act that he signed. 
Since recording this album, the popularity of the live TTP show has grown to the nationwide level, landing on the AXS TV channel's World's Greatest Tribute Bands owned by Mark Cuban. The TTP recordings have sold over 750,000 downloads on services such as ITunes and Amazon Music and has streamed over 35,000,000 on Spotify!
This is the album that started it all! Featuring 15 of Bob Seger's greatest hits faithfully reproduced by the Sam Morrison Band and of course is personally autographed by Sam Morrison!