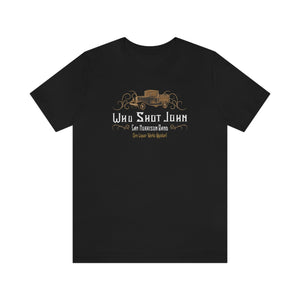 Back Where I come from, it's known by many names......
Moonshine, white lightening, bootleg, firewater, hooch, rotgut, home brew, Mountain Dew......
But my favorite was always, Who Shot John!
This shirt pays tribute to both,  the brew itself and the song that it inspired from the new album "Unfinished Business!"
Just remember, if you're gonna take a nip.....Corn Liquor Works Quicker than ya think it would!
.: 100% Airlume combed and ringspun cotton (fiber content may vary for different colors).: Light fabric (4.2 oz/yd² (142 g/m²))
.: Retail fit
.: Tear away label
.: Runs true to size