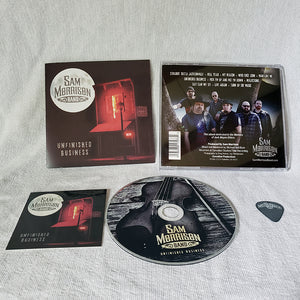 The New Album from the Sam Morrison Band has finally arrived!
Two Years in the making.....Surviving computer crashes, car wrecks, and the complete shutdown of the world as we know it.....It's ready!
We've really drawn hard from a lifetime of Southern Rock to create a sound that is absolutely our own but also feels like an old friend!

The title track, "Unfinished Business"  is something every hard-core Southern Rock fan is gonna LOVE. Let's just say.....there was a little more to the Story about that Golden Fiddle .........it's a True Southern Rock Fantasy and as the dream comes to life, it makes you feel like you were there!
The Bronze Bundle

This bundle contains the bare basics, to get ya moving....it contains:
An Autographed CD

An Official Sam Morrison Band Guitar Pick

A Heavy Duty 3x3 Sticker of the Unfinished Business Album Cover

-----------------------------